Cerebral Palsy Treatment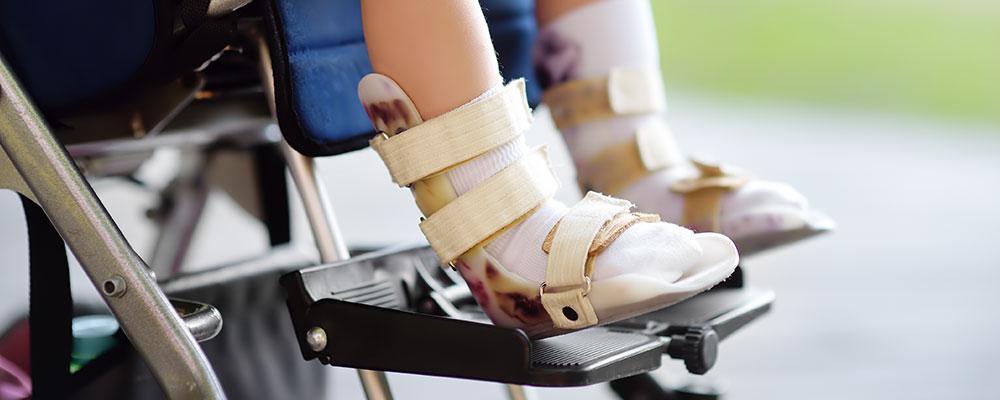 Receiving the Proper Care for CP - Illinois Birth Injury Lawyer
When a person experiences Cerebral Palsy (CP), nearly every area of their life will be affected. However, with the proper diagnosis that identifies the type of CP, the level of severity, and any co-existing conditions, a person can receive treatment that will allow them to maintain a good quality of life. Some of the potential treatments may include:
Medication
Depending on the type of Cerebral Palsy, a variety of different drugs may be used, including:
Muscle relaxants - These drugs can help address tightness of muscles or spasticity, and they may increase a person's range of motion in their affected limbs. Some muscle relaxants may be taken orally, or they may be injected into the muscles or nerves.
Anticholinergic medications - These drugs can help control the involuntary muscle movements that are associated with athetoid CP.
Anticonvulsants - Many people with Cerebral Palsy experience epilepsy, and they may use these medications to address seizures.
Anti-inflammatory medications - These drugs can help with pain management.
Antidepressants - The difficulties of dealing with CP can lead to emotional issues, and medication may be necessary to treat depression, anxiety, or other mood disorders.
Surgery
In some cases, surgical procedures can help address problems with movement, tightness of the muscles, or bone abnormalities experienced by those with CP. Some of the potential surgical procedures include:
Muscle or tendon surgery - Lengthening or cutting muscles or tendons or transferring tendons from one bone to another can help correct issues such as contracted or tightened muscles, allowing for greater range of motion and improving muscle control.
Orthopedic surgery - These procedures may be used to correct abnormalities or deformities in the skeletal system and ensure that joints are placed in the correct position.
Neurosurgery - Procedures may be performed to address nerve issues that may be contributing to issues such as spasticity. In some procedures, such as selective dorsal rhizotomy, nerves that are not functioning correctly may be cut, which can help relax muscles.
Gastroenterological surgery - If CP has affected a person's ability to chew, swallow, or digest food, surgery may be necessary to ensure that the digestive system functions correctly and provides the proper nutrition to the body.
Therapy
A child with Cerebral Palsy will likely require multiple types of ongoing therapeutic care, including:
Physical therapy - Regular muscle exercises can ensure that a child has the strength and flexibility they need. It can also help with their balance, coordination, and motor control.
Speech therapy - CP may affect a person's control of their facial muscles and airway. Speech and language therapy can ensure that they are able to speak as clearly as possible or use other methods of communication, such as sign language or electronic communication devices.
Occupational therapy - This type of therapy will help a child learn to perform daily activities and achieve as much independence as possible when at home, at school, or in the community.
Equipment
A variety of medical and assistive equipment may be required to address medical issues related to CP and allow a person to perform daily activities. These may include:
Mobility aids - A person may need to use a wheelchair, a walker, crutches, or braces, and their home may need to be modified to provide the necessary accommodations.
Hearing assistance - Many people with CP suffer some form of hearing impairment, and they may need to use devices such as hearing aids or cochlear implants.
Nerve stimulators - People who suffer from epilepsy may use a vagus nerve stimulator to control seizures. This device is implanted in the chest, and it sends electrical pulses to the brain.
Breathing aids - If CP affects the lungs or respiratory system, ventilators or other breathing assistance devices may be necessary to ensure that they receive the proper amount of oxygen.
Feeding tubes - Those who are unable to feed themselves or who experience digestive issues may need to have a feeding tube installed to provide the proper nutrition.
Receiving the Treatment Your Child Needs
When your child is diagnosed with Cerebral Palsy, you will want to be sure to provide them with everything they need to provide for their health and well-being. Unfortunately, the costs related to the extensive, life-long treatments that a child requires can be massive. While some financial assistance programs are available, for many families, the best option for providing for a child's needs is to take legal action to address the harm caused by medical negligence.
At the Birth Injury Law Alliance, we can help you determine whether your child's Cerebral Palsy was caused by errors made by medical personnel during birth. We will work with you to ensure that you have the financial resources you need. Contact us and schedule a free consultation by calling 312-945-1300.